ASG Conference - What a Weekend!
I wore this outfit in the Saturday Fashion Show
My booth!
I recently returned from the American Sewing Guild Conference in sun-drenched San Diego. It was a busy few days, filled with workshops, lectures and fashion. Some of my favorite things had nothing to do with vintage, and that's partly why I go to this type of event -- to mix and mingle with craftspeople who have found their own niche. It's great to share our experiences and learn from each other!
Southern Belle, Simplicity #1061 poster and Tia on display.
Andrea hand painted the flowers on her jumpsuit
I met so many great people!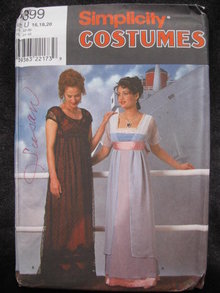 At the fashion show, Andrea Schewe pulled me aside and said "Is your name Lauren?" (An easy mistake, right?) She was looking for someone her sister asked her to meet. So it turns out I wasn't the right "Lauren" but we discovered our common thread as Simplicity designers, and she is such an easy lady to like!
Here I am with Andrea, costume pattern designer extraordinaire at Simplicity. I learned she has been working for them for 30 years! Recall those Titanic dresses that we all fell in love with? Yup, she's the one. I still have my pattern too! Follow Andrea's blog here:
http://www.andreaschewedesign.com/blog
You need to know about Bobbi Bullard. She is an embroidery designer and now she has a new way to teach kids (or anyone) to sew. She has started the
Kids Sewing Studio
, offering sewing classes for every age and ability, but what caught my eye was this idea of making a complete sewing class in a box! She has projects for the absolute beginner and for those with basic skills and they are so reasonably priced at $30. This is a great way to get started!
Bobbi Bullard and her friendly helpers.
No more excuses!
My next-door booth neighbors are talented bead jewelry designers from the
San Diego Bead Society
. It was so fun to exchange ideas and get to know them.They became one of our best customers, and hear this -- they don't even sew! I told them about the Simplicity 1061 sew along and they promised to join in.
Check out these amazing necklaces made by some of the members:
This award-winning bead necklace takes "statement" to a new level!
This necklace was made from vintage buttons
Meeting Diana Cavagnaro (
dianacavagnaro.com
) was amazing. She creates one-of-a-kind custom chic hats -- worn at the Kentucky Derby and by many celebrities. She also teaches millinery (hat making), has written many articles about her craft, and volunteered for years with the American Cancer Society. In fact, she was responsible for creating and donating more than 2,000 hats to cancer patients. I loved seeing her gorgeous creations and learning a little about the life of a hat-designer to the stars, and so much more!
A few of Diana's millinery videos.
Diana and her talented staff!
I also met another designer I now admire. Julianne Bramson was one of the founders of the vintage reproduction line "Decades of Fashion." To start that line of patterns she said she bought about $10,000 in vintage patterns! She is now co-owner of
Fashion in Harmony
following her love for the 1930's bias cut in a modern way. This accomplished lady specializes in everything bias cut! In fact, she co-authored a book
Bias Cut Blueprints
that takes you from picking the right fabric, teaching a fun-to-sew method of bias cut clothing and customizing your piece, and, maybe most important, getting a great fit.
Julianne Bramson, from Fashion in Harmony
We spent a lot of time chatting and ended up trading patterns. It's so fun to meet someone who really loves what she does and is sharing her expertise with the rest of us. If you love the look of bias cut, I recommend you check out her website and her
book
!
It was a very very busy few weeks leading up to this event and the three days I was in San Diego flew by, but I had a great time and met some fabulous people. Thanks to all of you for being some of the highlights my weekend!
Until we meet again have a great sewing, designing or beading day!
Laura